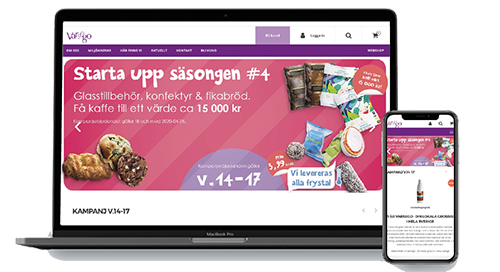 Varsego is made up of 23 different wholesalers all over Sweden who were initially individual GB Glace wholesalers. They joined forces in 2009, and today they are part of an organization with almost 450 employees who make ice cream available to everyone, from Kiruna in the north to Simrishamn in the south – and everywhere in between. This allows them to reach out to an enormous network of around 18,000 customers. Besides ice cream, Varsego also provides a range of bestselling products from market leading brands: drinks, confectionery, protein products, fast food and bread and pastry products, known as on-the-go products.

Manual work took far too long
Joacim Bergström is the sales and marketing coordinator at Varsego and he is responsible for the website and online store. In this case he describes the origins of Varsego's e-commerce journey and why they eventually decided to switch to a different e-commerce platform.
Download and read the whole case.